Hello, and welcome to Tales from the All-Hero Challenge! A daily segment in which certified "Dota-noob" Gorillanator tells of his quest to finish Dota 2's all-hero challenge, where you have to win at least one game with every single hero. Today we're looking at Earthshaker and my worst Dota game ever.
---
So I finally won a game as Earthshaker after 4 tries. The win was boring- I'd rather not dwell on it. It wasn't a steamroll or a back-and-forth or a roaming game, but a slow climb to the win over 40 long minutes. So, to cater to the readers, instead of boring you with a long, drawn-out game, let's talk about the one where I fed- the one where I learned to hate Techies and find out when Earthshaker is and isn't viable.

First, however, we need to discuss Earthshaker himself. Chances are, if you play any MOBA, you've heard of Earthshaker- namely because of this moment in 2015's International championship game that singlehandedly turned the tides of the match: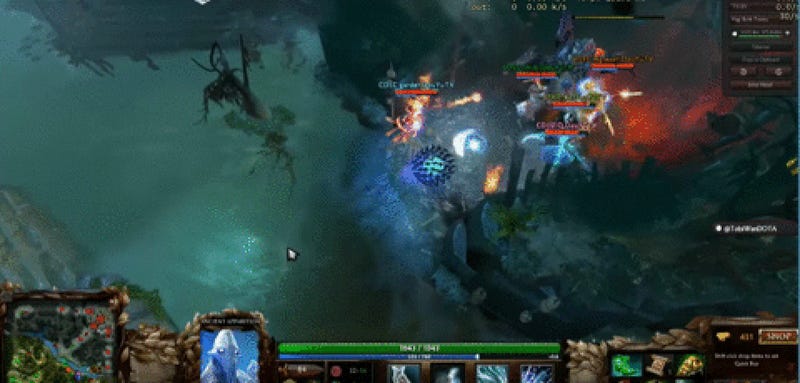 "IT'S A DISASTAH! THEY'RE GONNA GET WIPED FROM THE FACE OF THE UNIVERSE!"

Yes- that's Earthshaker singlehandedly almost taking out an entire enemy team over at Roshan. Phew. I'll explain how it happens later.
To begin with, Earthshaker's Q is insane. Forget the fact that it does 260 max damage- it creates a narrow fissure that stuns with a length of 1400. In terms of size, that's the longest stun in the game.
Earthshaker's W is in no way overshadowed by his Q- It makes your next basic attack deal extra damage, going up to 400%. That's Earthshaker's basic attack damage amplified by 5.
In terms of Earthshaker's E, it's a passive. Apparently someone at Icefrog decided that the longest stun in the game wasn't good enough, and so they made this passive- which makes it so that every ability you cast stuns those within a radius of you. This is good to use in syndication with your W, pulling off a combo where you activate your W which procs your Q, stunning your opponent so you have time to go in and deal some serious damage.
Earthshaker's R is the godlike performance you saw in the GIF above. It causes a little shockwave around him that deals 270 damage.
Wait, what?
That's right- Earthshaker's ultimate only does 270 damage. However, it has a special ability- for every hero it hits, it goes off again- twice with Aghanim's scepter. This means that Earthshaker is the ultimate teamfight engager. Use your Q,, blink dagger in, use your ult, and before you can say "supercalifragilisticexpealidocious," the entire enemy team is gone.
But that might just be because "supercalifragilisticexpialidocious" is extremely hard to say on your first try and you will most likely trip over the pronunciation multiple times before finally getting it right.
---
So.
Techies.
I'm going to be honest- I love playing as Techies. Being a Heimerdinger main in LoL, I love leaving your little traps and gadgets strewn about while you go off to do something else (like roam to bot lane and forget that your turrets deactivate after you leave a certain range- but it's okay, you maxed W first). It's something really unique that you don't see a lot among some of Dota's other heroes.
I also despise Techies in every way imaginable.
For those of you unfamiliar with Dota, here's how I can describe Techies: You're having a perfectly fine day and everything is going your way. They played all of the songs you like on the radio and didn't play any of the songs you hated. You walk into work and you get a promotion! How exciting! As if things weren't going well enough, your friend invites you to a party he's throwing. Oh, how nice and joyful you are!
Then you arrive at the party and there's a big sign that says "FOOLED YOU! There was no party. You're extremely gullible."
That's essentially Techies, but replace the party with the jungle and the big sign with a big pile of a million mines he's placed in it.
I'll go more into detail when I get to Techies' TftAHC, but for now I leave you with this summary: HIGH-DAMAGE. INVISIBILITY. STUNS. ANNOYING LAUGHTER.
You're probably wondering why exactly I'm talking about Techies so much. Well... this image sums it up:
Yeah. I will note that I do perform well as Earthshaker in other circumstances- just not in this scenario. On that note, let's talk about the match.
If you look closely, there's something off about the Techies. That's because he owns an arcana. Arcanas are special cosmetic sets for Dota heroes that change certain things, such as animations, voice lines, models, and even icons. They also cost $35 and people usually don't buy them unless they're devoted to playing that hero and/or it comes with a puppy.
Anyway, the match begins and I decide to go top because quite frankly, I don't know which lane to go as Earthshaker. For my compendium challenge I picked "get or assist in first blood" as it seemed pretty easy. Techies is really squishy early game, and so the challenge should be of relative ease. We grab the rune and head to our lane, only to be greeted with... a different kind of first blood.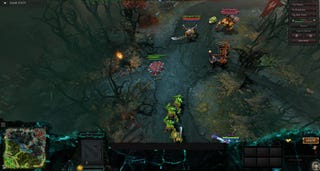 Uh oh.
The Techies shenanigans continue, only getting worse and worse. We manage to get in some good farm and poke Techies and Meepo quite a bit. Eventually, Techies is so low that I can probably stun him with a Q and finish him off with Legion Commander. I manage to box him into a corner, and then I remember that one of his abilities not only denies his own death, but causes a high-damage explosion around him.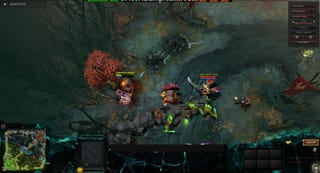 Normally I save up for bottle as my first item so I can recharge my health and mana. It's especially useful on Earthshaker, as his early game mana pool is really low despite his abilities having a high cost. Not this time though- because we're playing against a Techies, I stock up on sentry wards, big-time. Despite my efforts, however, Techies' mines still detonate when you move within a certain radius of them. This means that while ranged heroes like Sniper and Drow ranger are in the clear, Techies is a hard counter to melee heroes.
Luckily, my Q can destroy mines from a safe distance. You know, the Q that uses more than half of my mana. I'm in a tough position here, aren't I?
Legion Commander and I manage to avoid his mines, but that doesn't stop them from being aggressive. Meepo's stuns keep catching us off-guard and leaving us with low health, but Techies can't do much harm, right?
...Right?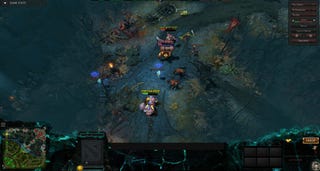 The game only gets worse from there on out. 0/3/0. 0/4/0. 0/5/0. I'm practically useless right now! No matter how many sentry wards I place or mana pools I waste, the Techies and Meepo dynamic duo won't stop killing us.
Also whenever Meepo poofs, it sounds like an old man sneezing. It creeps me out.
Suddenly, there was nothing. Techies and Meepo had gone roaming
Well, actually, there was something. A nonexistence, perhaps. A feeling of tranquility. Things were finally peaceful. Legion Commander and I were able to farm and get gold. Heck, I even eventually had enough money to stop buying wards and get a bottle!
I spot a mine pile made by Techies and decide to try and take it out. Suddenly, while I'm waiting for my Q to go off cooldown, we get ambushed!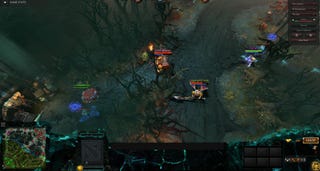 The moment is tense- on one side is a fatal pile of Techies mines, and on the other is a ravenous Meepo. Luckily, with Legion Commander's stuns in order, we manage to make a narrow escape! Things are actually looking up right now.
After we get some free farm, Techies and Meepo come back. This is around the time when I stop being afraid to go into the jungle. Of course, I don't stop doing this because I've built up my courage and come up with a strategy- no, it's because now I'm stuck in my own lane due to Techies' INVISIBLE REMOTE CONTROL ULTIMATE MINES.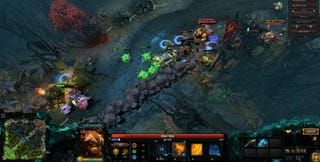 They take the turret, and so the other players on our team come top to help us out. They manage to destroy the Techies within a few seconds while he's away from both Meepo and his mines. You see, that's the key to playing against Techies. Like how a Q-maxing Heimerdinger is in League, he's near powerless without the things that make him viable. Without any mines to protect him and his deny on cooldown, Techies is essentially a weak shopping cart filled with jaundiced pigs without the mines that make him look like a menace from the depths of your worst nightmares.
Eventually, four of us meet up by top rune to finally take down the evil tyrant's equally evil adviser, Meepo. We box him in, but his damage is too high. Luckily, we manage to all use our ultimates and take him down!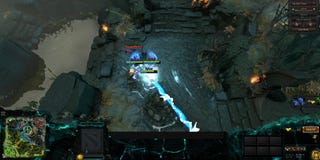 Did I mention we might have fed Meepo a tad bit as well?
The enemy team starts pushing mid in a force that seems both relentless and unstoppable. Turret after turret, they keep pushing, utterly destroying anyone that comes in there way.
That's when it happens.
Juggernaut gets a little overconfident and thinks he can take me on when he's at 100 health. He uses his spin. I manage to tank through it and finally get a kill.

After way too much time spent turtling in base, we decide to head out and push mid. It doesn't end well, with 3 out of 5 of us dying. Now the opposing team is pushing harder. Meepo takes down our mid turret and progresses to bottom after being scared away. He then decided that he's hungry and devours our barracks.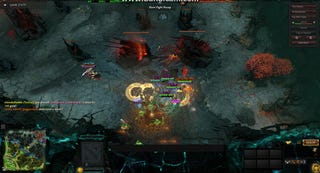 (Sped up 4x)

He then proceeded to get a triple kill under our fountain. Things begin to look even bleaker when the enemies destroy our barracks, granting them power creeps. However, that doesn't matter now- they're already at the ancient.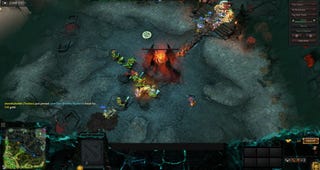 So, what do I think of Earthshaker? Honestly, it depends. I did have an absolutely fantastic game with him that wasn't this where I went 12/12/9. The enemy team frequently fell to my stuns and ultimates throughout the game. But against this team? I ended up doing the worst I've ever done. Overall, I think that the case with Earthshaker isn't that he's too slow or melee-based or costly- I think that how viable he is depends on how engage-able the enemy team is. Think about it- the whole game, I was scared to go in on Techies because the lane was covered in hidden land mines. This is a huge upset when you consider that Earthshaker's entire kit is based around engaging. He goes from being a fun, powerful, heavy-hitter, to a useless hunk of wasted potential. That's why I give Earthshaker a 7/10. He's great, but only in the scenarios that allow him to be so.
---
FINAL EARTHSHAKER SCORE: 1/15/3
FINAL GAME SCORE: 14 TO 70
NEXT HERO: WINDRANGER
---
Have any tips or tricks for Gorillanator? Leave them in the comments below! He probably needs them. Tales from the All-Hero Challenge releases new pieces first on Gorillanator's personal blog and are then shared wherever.